Experience a rich heritage on Long Island's South Shore. Migrating ducks, geese and Brant along the Atlantic flyway have made this expansive marshland their winter feeding grounds for centuries.
Consequently, some of the most highly respected waterfowl carvers and guides have also made this unique place their home. Carvers like, Obadiah Verity, Capt. George Combs, and Bill Bowman, chose to make their living and raise their families in the maritime villages nestled along the creeks of the Great South Bay. Today, their decoys can only be found in museums and in private collections. Or at Sotheby's auctions sometimes bringing prices of $500,000 and higher.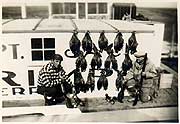 Many notable "sportsman" like Solomon Guggenheim (founder of Museum of Modern Art) and Babe Ruth hired local guides to hunt these same salt marshes.
The tradition continues today. Barry Kanavy's mentor Capt. George Combs (better known as "Pop"), considered Barry his third son. Pop started him on his life long journey as a bay man, carver, boat builder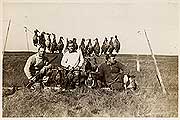 and water fowler at an early age.Having grown up around these market gunners, rumrunners, outlaws and pirates Capt. Barry has acquired a treasure of experience you will thoroughly enjoy.
Capt. Barry still guns over his own hand carved wooden decoys. Gunning from custom built grassed duck boats.
His dog Dory, a Labrador Retriever, is always ready to retrieve your birds.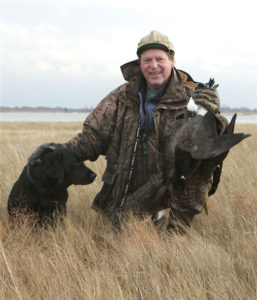 If your idea of a good hunt revolves around the smell of a wood fire and wet dog. If you enjoy being there at first light and listening to the marsh wake up. You're sure to treasure this "duck shooting" experience as you are transported back in time.
Required:
New York State "small game license" and Federal Duck Stamp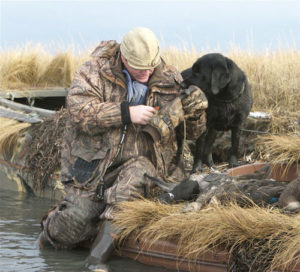 Recommended:
Insulated waders, camo insulated jacket, waterproof insulated gloves and camo hat. 12 gage full or modified choke. Steel shot # 2 or Bismuth # 2 or 4 shot.
Hunting parties from one to four guns can be accommodated for half or full day.
Season:
Runs approximately from Thanksgiving through January 20th of every year.
Reservations:
are required, dates become available October 15th. You can book a trip from our Contact Us page or call me: 516-785-7171